IJAN Update -- September 2020
IJAN Update -- September 2020
Ever since the video of James Santos (a/k/a Otis Jackson) surfaced in late 2019 confessing to the shooting for which Imam Jamil Al-Amin (formerly known as H. Rap Brown) was wrongfully convicted, the momentum to free him has increased exponentially. And We Need to Keep Our Pedals to the Metal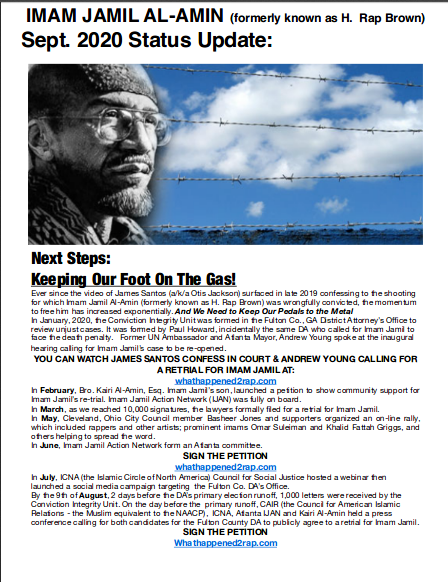 In January, 2020, the Conviction Integrity Unit was formed in the Fulton Co., GA District Attorney's Office to review unjust cases. It was formed by Paul Howard, incidentally the same DA who called for Imam Jamil to face the death penalty. Former UN Ambassador and Atlanta Mayor, Andrew Young spoke at the inaugural hearing calling for Imam Jamil's case to be re-opened .
YOU CAN WATCH JAMES SANTOS CONFESS IN COURT
& ANDREW YOUNG CALLING FOR A RETRIAL FOR IMAM JAMIL AT:
In February, Bro. Kairi Al-Amin, Esq. Imam Jamil's son, launched a petition to show community support for Imam Jamil's re-trial. Imam Jamil Action Network (IJAN) was fully on board.
In March, as we reached 10,000 signatures, the lawyers formally filed for a retrial for Imam Jamil.
In May, Cleveland, Ohio City Council member Basheer Jones and supporters organized an on-line rally, which included rappers and other artists; prominent imams Omar Suleiman and Khalid Fattah Griggs, and others helping to spread the word.
In June, Imam Jamil Action Network form an Atlanta committee.
SIGN THE PETITION
In July, ICNA (the Islamic Circle of North America) Council for Social Justice hosted a webinar then launched a social media campaign targeting the Fulton Co. DA's Office.
By the 9th of August, 2 days before the DA's primary election runoff, 1,000 letters were received by the Conviction Integrity Unit. On the day before the primary runoff, CAIR (the Council for American Islamic Relations - the Muslim equivalent to the NAACP), ICNA, Atlanta IJAN and Kairi Al-Amin held a press conference calling for both candidates for the Fulton County DA to publicly agree to a retrial for Imam Jamil.
SIGN THE PETITION
pdf_version
IJAN updates image
Image